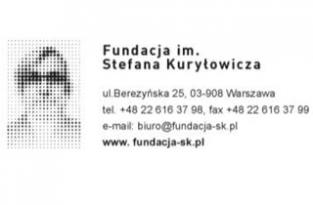 Fundacja im. Stefana Kuryłowicza prowadzi rekrutację do dwóch programów kierowanych do młodych twórców. Stypendium – dla tych, którzy chcą zmienić przestrzeń publiczną miast oraz Konkurs TEORIA – osób piszących o związkach architektury z kulturą.
Zgłoszenia przyjmowane są do końca czerwca 2015 r.
Utworzona w 2012 roku Fundacja im. Stefana Kuryłowicza ma na celu promocję odważnej i odpowiedzialnej twórczości architektonicznej. "Dla tak określonej misji najważniejszym wyzwaniem Fundacji jest dążenie do wspierania młodych, utalentowanych i ambitnych architektów w Polsce" mówi prof. Ewa Kuryłowicz, Przewodnicząca Rady Fundacji. "Do realizacji tego celu chcemy się zbliżyć poprzez organizację dwóch programów, Konkursu TEORIA oraz Stypendium PRKAKTYKA, które pozwolą wyróżnić i wesprzeć zdolnych projektantów na obu tych polach. To równocześnie najlepszy sposób, aby upamiętnić Patrona Fundacji Stefana Kuryłowicza, który wierzył, że najlepsza architektura powstaje na drodze łączenia teorii z praktyką".
TEORIA - to konkurs, w ramach którego zwycięski tekst o tematyce relacji architektury i kultury, zostanie opublikowany w dwujęzycznej serii wydawniczej, a autor otrzyma nagrodę finansową w wysokości 3.500 PLN.
PRAKTYKA - to trwające sześć miesięcy stypendium. Wybrany w otwartej rekrutacji projektant lub zespół otrzymają wsparcie finansowe w wysokości 20.000 PLN by rozwinąć swoje pomysły na ulepszenie wybranej przestrzeni publicznej miasta. Tematem pierwszej edycji konkursu jest miasto Warszawa.
Rekrutacja do obu programów trwa do 30 czerwca 2015r. Więcej informacji na stronie www.fundacja-sk.pl oraz facebooku Fundacji