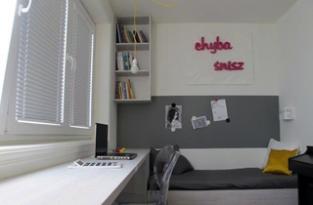 W blokowych mieszkaniach pokoje nastolatków nie są na ogół duże. Pomysłowa aranżacja pokoju młodzieżowego to nie lada wyzwanie, bowiem to właśnie w tym pokoju musi się zmieścić wiele funkcji. Pokój nastolatka jest salonem, w którym są przyjmowani goście, sypialnią, gabinetem do nauki, garderobą, a często też miejscem na ekspozycję hobby. Musi być przy tym modnie i na czasie…
Podstawa dobrej aranżacji pokoju młodzieżowego to wybór jak najbardziej neutralnych mebli. Czemu właśnie takich? Będą bowiem mogły stanowić neutralne tło dla kolorowych dodatków, gadżetów, barwnych poduch, pościeli, zasłon, dywanów, które właśnie znajdują się na liście lubianych przez nastolatka motywów, kolorów, wzorów. Częsta zmiana zainteresowań młodych ludzi pociąga za sobą zmiany w aranżacji pokoju. Kochane dotychczas wizerunki Księżniczki czy Spidermana odchodzą w zapomnienie, zaś zastępują je zupełnie nowe fascynacje. Stąd wybór mebli szarych, białych, czy po prostu w naturalnym kolorze drewna w praktyce okazuje się bardzo dobrym wyborem.
Jasne kolory spełniają także rolę optycznych "powiększaczy" pokoi. Powodują, że wnętrze wydaje się większe. Jednak i mocne kolory są niezbędne w takim pokoju, by nie stał się zbyt spokojnym pomieszczeniem, nieodpowiadającym temperamentowi nastolatka. Idealne do tego są tkaniny – zasłony, pufy do siedzenia, poduszki na kanapie czy łóżku, narzuta, pled. Także segregatory na biurku czy półkach oraz pudła do przechowywania drobiazgów mogą mieć intensywne kolory i wyraziste wzory ożywiające pokój.
Na ściany zaś wybierzmy również kolory jasne, jeśli pokój nastolatka nie jest duży. Ciepłe odcienie bieli, farby kremowe, jasnoszare, pastelowe odcienie fioletu, zieleni… Wśród wybranych kolorów młody człowiek musi czuć się dobrze – pozwólmy mu więc na ostateczne decyzje, aczkolwiek nie pozostawiajmy sprawy bez kontroli.
Urządzając mały pokój, warto zastosować triki optyczne – na przykład na wąskiej ścianie namalować szeroki pas w innym kolorze – taki zabieg poszerzy optycznie pokój. Dziś są dostępne farby tablicowe oraz magnetyczne, dzięki którym fragment ściany stanie się tablicą da notatek zapisywanych kredą lub tablicą magnetyczna do przypinania tego, co w danej chwili istotne.
Przykład doskonale urządzonego małego pokoju nastolatki znajdziecie na portal pytanieomieszkanie.pl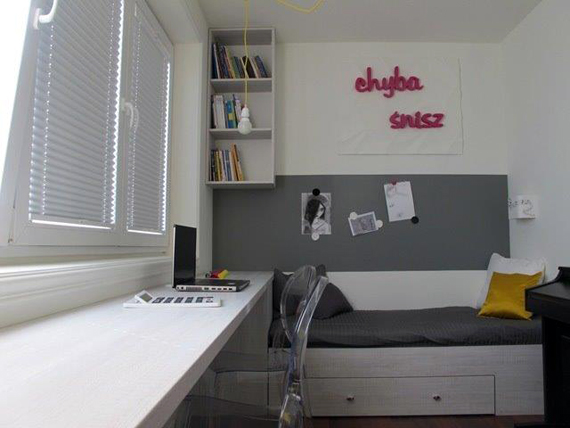 Wasze opinie
Dodaj komentarz:
Jak wstawić obrazek lub link do komentarza?
Drogi Czytelniku W-A.pl - w komentarzach w W-A.pl możesz wstawić zarówno linki jak i obrazki z zewnętrznych serwerów.
Aby wstawić aktywny link wpisz przed nim znaki [www], a po nim [/www] np. [www]www.w-a.pl[/www]
Aby wstawić obrazek wpisz przed jego adresem znaki [img], a po nim [/img] np. [img]www.w-a.pl/obrazek.jpg[/img]
UWAGA: Szerokość "cytowanych" obrazków może wynosić maksymalnie 570 pikseli. Wszystkie większe formaty nie będą wyświetlane.
W razie pytań i problemów piszcie do nas portal(at)w-a.pl
Redakcja W-A.pl nie odpowiada za treść opinii wyrażanych przez internautów piszących na stronach W-A.pl